Description
Rainbow Wooden Horse Rocker & Climber for Toddlers & Kids from Nobsi™
The wooden Rocking Toy by Nobsi is an ideal starting point for a toddler's healthy development as it directs children to take joy in movement. Fun to use as a rocker, swing, seat or balance board, or flip it over for climbing, use as a bride, a tunnel, a slide – the possibilities for creative play are endless! It improves body cognition, coordination, spatial awareness and posture.
From creator Anna-Liisa: "This is our RAINBOW HORSE model in Jumbo size. In soft rainbow colors set against classic white, the RAINBOW HORSE (with a rocking horse motif) offers a playful combo of hues that will boost a child's mood and help them with color recognition."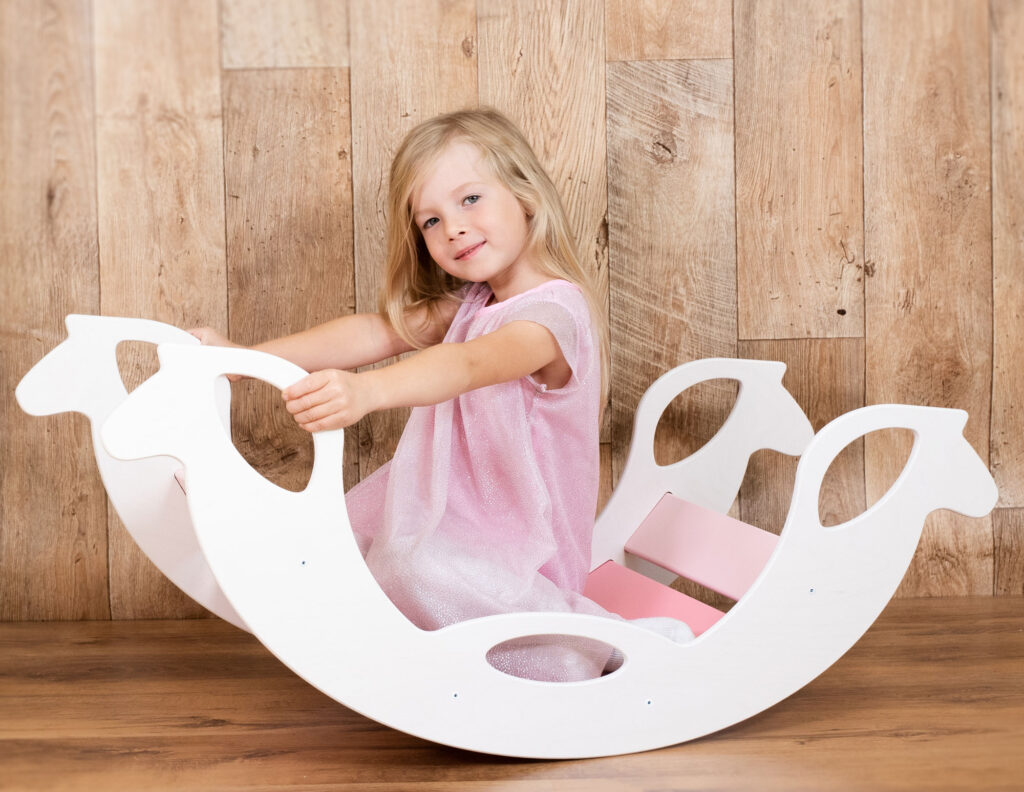 MAIN FEATURES
⚬ EDUCATIONAL: Thanks to the well-considered design, the rocker contributes towards the child's healthy development – improves the body cognition, coordination, spatial awareness and posture. Creative thinking and imagination will also be increased.
⚬ MULTI-PURPOSE: Rocker is a multi-purpose toy that can be used as a rocking toy, climbing ladder, tunnel, gate, nest for toys, slide and board game.
⚬ ECO-FRIENDLY: Rocker is made of high quality humidity proof birch plywood and we use water-based colours and varnishes, which meet the EN71 toy safety standards. Our packaging is also eco-friendly (recycled paper).
⚬ SAFE & DURABLE: We use only natural and eco-friendly materials. Each rocker has a high-quality, smooth finish and no sharp angles. Our rockers are laboratory tested and they are compliant of toy safety standards CE and en71.
⚬ PERSONALIZE: Option to engrave your child's name on the side. Just indicate name in Personalization box above.
MORE DETAILS
⚬ The Nobsi rocker is created with love and care by mother of 3 who's also a midwife.
⚬ Measures 41 cm wide x 98 cm long x 39 cm high.
⚬ Weights 4,5 kg.
⚬ Designed and produced in Estonia – carries Nordic Design aesthetics.
⚬ Easy to maintain and clean.
⚬ Usable throughout childhood and even longer.
⚬ Comes as a flat pack with easy to follow instructions and an assembly kit.
⚬ Ready to ship in 1-3 business days.
⚬ The design of this rocker is patented and may not be rebuilt by anyone else. The name "Nobsi" is a Registered Trademark.
SAFETY
⚬ Suitable for children aged 1 year and older.
⚬ Small children who are in danger of falling should use the rocking toy only under parental control.
⚬ Maximum carrying capacity is 50kg.
⚬ Designed for indoor use only. Not suitable for outdoors.
⚬ Binding screws should be checked regularly and adjusted when needed.
⚬ Rocking toy could carry on moving as a result of the child's activity. Should be used only on an even floor.
⚬ Do not leave the rocking toy near an open fire or any other source of radiant heat.
⚬ Remove the rocking toy from use immediately if it has been damaged.
⚬ The packaging of the rocking toy is not a toy and it should be removed from the reach of children immediately and be kept out of their reach.