Rocking Toy – A Real Educational Wooden Toy Made by One Family
Bring your little princesses' swan dream to reality with this adorable yet royal swan-inspired balance board. Featuring a streamlined swan structure with hand-painted details, this balance board is sure to add a magical appearance to your baby's nursery.
This rocking swing for toddlers by Nobsi is a perfect way to get your baby start moving. It is engineered to support the muscles that are responsible for setting the right posture while developing a thorough sense of balance. It will also awaken their senses while promoting a sense of imagination. And the smooth edges make it kid-friendly.
This multi-purpose baby board can be used as per children's liking. They can play with it as a balance board, use it as a car track, slide down or even step on it as a stool. There are endless ways of using it, all depending on your child's creativity and imagination.
This swan swing is just the right present to surprise your princess with. It will pace up her physical development, just like a magical spell.
"If you are already making bird-like swings you will not, in my opinion, get over or around the swan. This magnificent bird with its elegance and streamlined nature doesn't leave anyone cold. From concept to implementation, this was made with a help of designer Indrek Oper." – Anna the Author
FEATURES:
* humidity proof sustainable birch plywood
* Nordic design aesthetic
* eco-friendly water-based paint & varnish
* soft rainbow colors
* designed by mother & midwife
* can be used by 2 children
* super easy to assemble
* smooth finish with no sharp angles
* easy to maintain and clean
* enjoyable throughout childhood from 1 year up
* meets CE & EN71 toy safety standards
* laboratory tested
* arrives in eco-friendly (recycled) packaging
* patented design
BENEFITS:
* contributes to healthy development
* improves body cognition
* great for coordination skills
* improves spatial awareness
* gives good posture
* aids creative thinking & imagination
Nobsi – Let Your Joy Fly!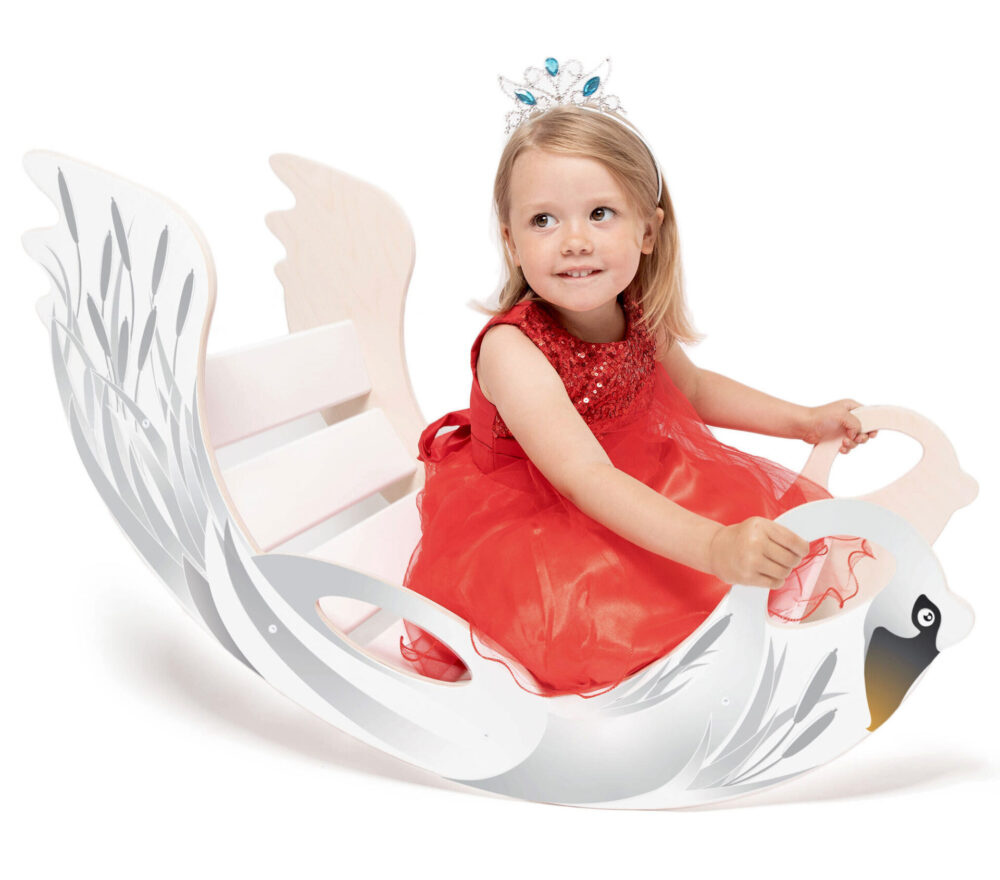 Additional information
Designed and produced in Estonia – carries Nordic Design aesthetics
Easy to maintain and clean
Usable throughout the whole childhood and even longer
The rocker comes as a flat pack with instructions and an assembly kit. Assembling video: HERE
Materials
Product base: humidity proof birch plywood
Finish: water-based colours and varnishes, which meet the EN71 toy safety standards (more information HERE)
Measurements
Weight: ca 4,5 kg
Width: 41cm
Length: 89cm (BIRDIE), 98cm (JUMBO)
Height: 39cm
Safety instructions
Suitable for children aged 1 year and above
Small children who are in danger of falling should use the rocking toy only under parental control
Maximum carrying capacity is 50kg
Rocking toy is designed for indoor use. It's not suitable for outdoors
Binding screws should be checked regularly and adjusted when needed
Rocking toy could carry on moving as a result of the child's activity. Should be used only on the even floor
Do not leave the rocking toy near an open fire or any other source of radiant heat
Remove the rocking toy from use immediately after it has been damaged
The packaging of the rocking toy is not a toy and it should be removed from the reach of children immediately and be kept out of reach of children